Bullying
Harassment and bullying can make life stressful and unpleasant. You have the right to study in a harassment and bullying free environment.
Otago Polytechnic is committed to providing a safe working and learning environment in which all staff and students are treated with respect and dignity. 
What is bullying & harassment?
Harassment is conduct which is unwelcome or offensive to the recipient in relation to their race, colour, ethnic or national origins, gender, gender identity, age, disability, physical appearance, marital or family status, religion, ethical belief, union participation/non/participation, political opinion or sexual orientation.
Bullying is unwelcome and unreasonable behaviour which includes victimisation, humiliation, undermining or threatening behaviours and may involve the actions of an individual or a group. It creates an uncomfortable or hostile environment for those who are a target of the bullying.
Harassment and Bullying can be one serious incident or behaviour that is persistently unwelcome and offensive, to the extent that it has a detrimental effect on learning, performance or wellbeing.
"
Stop bullying: speak up!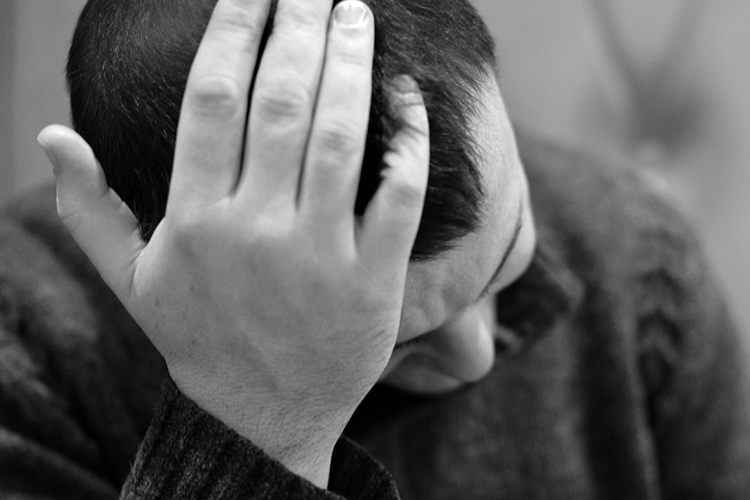 Verbal behaviour

Saying things to or about a person, or talking within the hearing of others about subjects that may be offensive, shouting, mimicking, etc.

Visual behaviour

Writing, drawing, posters, txt, pxt, posting and downloading or displaying offensive materials (eg: myspace, blogs, wikis).

Physical behaviour

Inappropriate touching, gestures, invading personal space, being overbearing, excluding a person from a group.
Examples of harassment and bullying:
Displaying sexual or sexist material
Calling you a nickname you don't like
Belittling your religious or cultural beliefs
Looking at you in a way that makes you feel uncomfortable
Invading your personal space
Making racist or sexist jokes or comments
Mimicking your accent, stutter or mannerism
Spreading rumours
Playing ill-natured practical jokes
Swearing at you or using abusive language
Excluding, isolating or ignoring you
Cyber bullying; including inappropriate comments, pictures and videos on Facebook, twitter and other social media pages.
"
You may be harassed or bullied if you feel unhappy or uncomfortable about someone.
Who harasses or bullies?
Harassment or bullying may occur in the behaviour of one or more staff members, students or any other person with whom you come in contact as part of your course of study.
Who to talk to if you are harassed or bullied?
These people can assist you with discussing a concern or making a complaint:
Any teacher
Student Success team
Your Head of School or Programme Manager
OPSA 
Your hall supervisor or residential assistant
The Health and Safety Manager 
Harassment and Bullying Prevention Coordinator
Chaplain
Trained Contact People
If you prefer, you can talk to a trained contact person. He or she will listen to your problem and give you information about the Polytechnic's concerns/complaints procedure. All discussions with a contact person are confidential.
However, if your concern is so serious that you or other people are at risk, the contact person may discuss the matter with the Harassment and Bullying Prevention Co-ordinator to make sure you are protected.
Need to talk to someone?
Counselling services

Student Health Centre,
M Block, Dunedin

Dealing with a harassment and bullying
You have three options in dealing with a harassment or bullying concern: 
If you feel you are being harassed or bullied by another person, you can talk with them and say: 
What the person is doing 

How it makes you feel 

That you want the offensive behaviour to stop. 
If the person does not stop, or harasses or bullies you in another way, you should seek help promptly. 
You may prefer to have someone else speak to the person causing you concern on your behalf. Intervention might be conducted by a Head of School, Deputy CEO, or the Harassment and Bullying Prevention Coordinator. This person will assess your complaint and decide whether it is appropriate to intervene. With help, agreement may be reached between you and the alleged harasser or bully about future behaviour. 
If the situation concerning you is serious, you should make a formal complaint. 
Any of the people beforehand can assist you to do this. If appropriate, your allegations will be investigated – and you, the alleged harasser or bully and possibly other people who may have knowledge of the issues involved will be interviewed. The Chief Executive Officer will make a final decision on your complaint, and if your complaint is found to have substance, the harasser or bully may receive a penalty.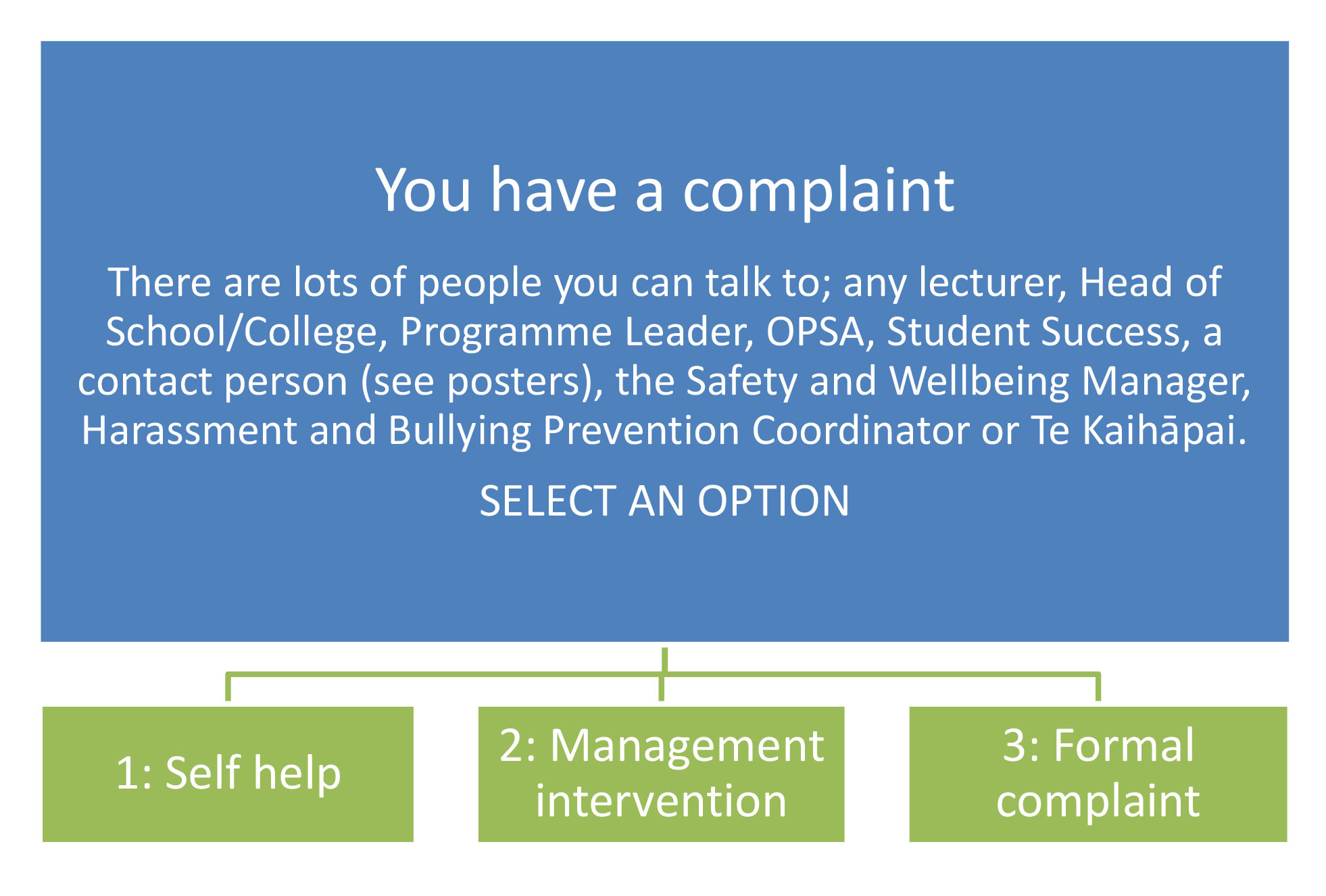 Treat others with respect
Otago Polytechnic wishes to provide a learning environment in which harassment and bullying is unlikely to occur. This means that you must not act in ways inconsistent with our harassment and bullying prevention policy.
While you can never predict exactly what kind of behaviour will offend someone, you can be sensible. Think about the people you work and study with. What sort of jokes, comments and behaviour do you think they find acceptable? Do you treat others in the way you wish yourself or your friends to be treated?
TAL
K About Harassment and Bullying
The ideal way for harassment issues to be resolved is for people to talk about them. If you are approached by a fellow student about your behaviour: 
Listen to what he or she has to say. Respect that person's right not to be offended and change your behaviour. If you didn't mean to offend, you can apologise and not repeat the behaviour. Although it may be embarrassing for someone to say your actions are offensive, it is important to be able to talk about harassment and bullying. 
Some people who feel harassed or bullied in the Polytechnic may not have the confidence to approach the person who is disrespecting them, and may seek intervention. If you are approached by a staff member on another person's behalf, view it as an opportunity for discussion. Most complainants do not want to get the person concerning them in trouble, they simply want the offensive behaviour to stop.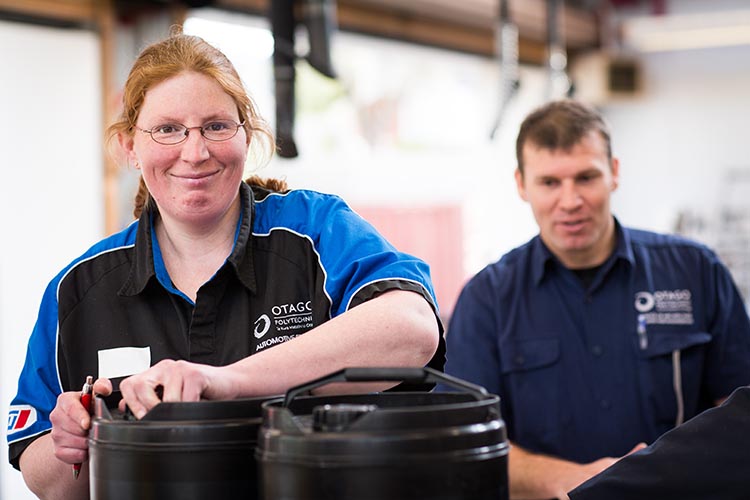 If you see another student being harassed or bullied don't stand by. Talk to the person about how he or she feels and/or tell a staff member. The person may be uncomfortable about seeking assistance, but they are likely to welcome your support. 
Otago Polytechnic treats harassment and bullying issues very seriously. Treat others with respect at all times. You have a right to study in a respectful and safe environment.
"
Bullying is everyone's responsibility!