Borrow and renew books
You can borrow items by having them issued at the lending desk or by using the self-issue machines on the ground floor. You can renew your Library items, if no one else has requested them, in person or online through Library Search | Ketu.
Borrowing Library items
Your student or staff ID card is your library card. Use your student network/moodle username and password to sign into Library Search | Ketu.
Borrowing entitlements
Students can borrow up to 50 items for up to four weeks, with three renewals.

Staff can borrow up to 100 items for up to 12 weeks, with three renewals.
These loan periods may vary depending on the item, and any requests made subsequent to borrowing.
Otago Polytechnic students and staff can borrow books from the University of Otago Libraries. Either pop in and borrow the book with your current student or staff ID or use Library Search | Ketu to place a request  – you can even choose which library you would like to collect the book from.
Library fines and charges
When Library material is on loan to you it becomes your responsibility and fines will be charged for:
Overdue items borrowed from the Reserve collection

Overdue items that have been requested by another person (overdue recalls)

Overdue items that have been supplied through the Interloan service

Lost books ($100 default replacement cost + $25.00 admin fee)
| | | |
| --- | --- | --- |
|   | Students ($5 limit) | Staff ($50 limit) |
| Overdue standard loan | No fines | No fines |
| Overdue 3 day loan items | $1 per day | No fines |
| Overdue Course Reserve items | $6.00 per hour (10c per minute) | $6.00 per hour (10c per minute) |
| Overdue Interloans | 20c per day | 20c per day |
| Overdue requested/recalled items | $3.00 per day | $3.00 per day |
Once your library fines reach the assigned limit, your record is blocked until all fines are paid. To prevent overdue charges, check your OP email account regularly for Library notices regarding due dates and requested items.
Overdue Library fines can be paid immediately via Library Search | Ketu with a credit or debit card and instructions are available from the University of Otago Library Paying Library fines page. If you have been charged fees for a lost book, contact the Robertson Library for payment instructions first.
"
Avoid Library fines and charges by renewing items before the due date.
Renewing Library items
Email reminders to renew or return items are sent to your student email.
To renew items follow the steps below:
1.  Go to Library Search l Ketu and click on My Library Account (round button on far right).

2.   Enter your student/staff username and password.
3.  Go to the Loans section in your account. Here you can either:
Renew All the items you have on loan

Select View all loans and then choose the ones you want to renew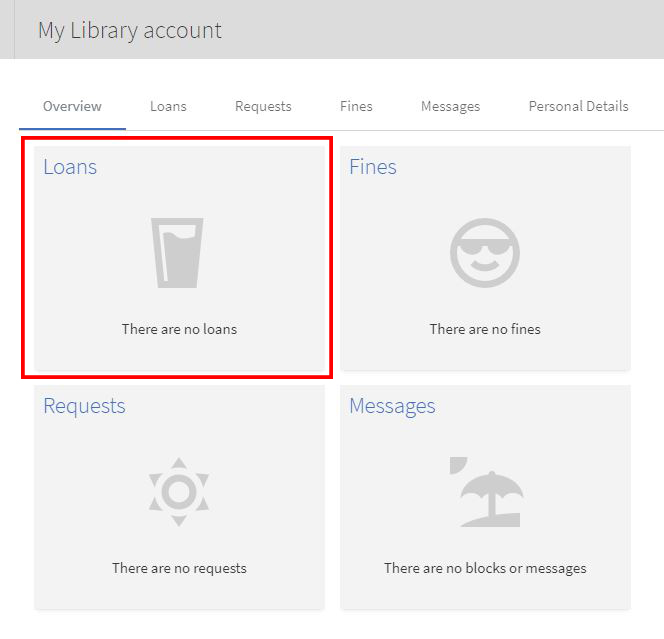 4.  If you are on a public computer, don't forget to sign out of your Library Account
Unsuccessful renewals
There are a few reasons why a renewal will not be successful:
Items interloaned from another library can't be renewed this way. Instructions for renewing Interloans are on the Interloan Service page.
If your library fines have reached the assigned limit ($5 students and $50 staff), you'll be unable to place renewals until they are paid online. Instructions for paying fines are also on this page.
When someone has placed a request / recall on a library item, it can no longer be renewed.